As far as modern Droids and Ewoks figures go, we now have BL-17, Boba Fett and Wicket. Kneesaa and Chukha-Trok sculpts have been made but are still not yet released. Out of the figures that we already have in hand, none of them are purely based on their appearances in Droids or Ewoks, but they are probably as close as we are going to get. Last week as wondering about who Hasbro should make next it inspired me to make a little animation header for the front page asking the question "Who's Next Hasbro?" So now I thought I would throw out the question in the forums: Who would you like to see next? My top choice is Mungo Baobab, but I would be happy with any new figures.
I hope for a new and modern Kneesaa's action figure.



Posts

: 75


Join date

: 2010-11-26


Age

: 44


Location

: Rio de Janeiro, RJ, Brazil



I agree, and they already have her sculpted, so Kneesaa should be released before any others from the cartoons. I'd like to see Chukha-Trok follow her, assuming the Ewok multipack doesnt get picked up...
Kneesaa and the mightyChukha-Trok are still my number one wishlist items. Meanwhile, here's a pic of the *all new* Logray, courtesy of the fine folks at GalacticHunter.com and Hasbro!Toyfair 2011 coverage began today, and it looks pretty good. There's a new all droids set coming to Star Tours, apparently all the worker droids including Utai! Logray is pictured by himself with just his headress, pouch, and staff. However another toyfair shot has him with both his staff and a spear?? WTH? When did Master Logray ever wield a spear? Unless they're refering to his once being a warrior. I for one would've liked to see the image spinner or alternate cloak rather than another spear. And a re-pack of Wicket's spear at that.

http://www.galactichunter.com/absoluteig/gallery.asp?action=viewimage&categoryid=6664&text=&imageid=42177&box=&shownew=

http://photos.sirstevesguide.com/basic-3-3-2f4-22-figures/p37770-hasbro.html



Posts

: 221


Join date

: 2010-06-10


Age

: 42


Location

: Oklahoma/Kansas



The Logray figure certainly looks good! You're right, it is too bad that he doesn't have any Ewoks cartoon or movie accessories. I was really hoping that he would. One thing that I noticed from the Toy Fair pictures was that one of the Star Tours droids has a resemblance to a droid that appeared in the first episode of Droids. He's not the same color and not exactly the same design, but could it be possible that they took some inspiration from this guy? It may just be a coincidence, but whether it is or not, if I can get this figure, he will definitely be a buddy for my BL-17 and Boba Fett Droids figures!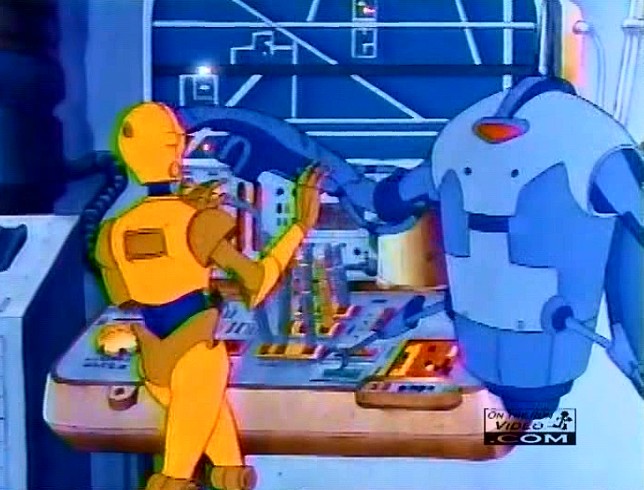 That V-shaped Star Tours droid does look similar to the one in the Droids cartoon, thats what I thought at first as well - sadly, its the only cool looking figure in the package, so I doubt I'll pick that one up - I may pick it up if it goes on ebay.

Logray looks fantastic, shame he doesnt have any extra accessories like Wicket that allow you to change his overall look to another outfit. I would have loved an animated cloak or an alternate head - I guess I'll have to customize one with my POTF2 Logray!
With the confirmation of Kneesaa - what character is everyone hoping to see next from Droids / Ewoks?
Man, I'd love to finally get a Chukha-Trok figure and Weechee and Widdle or Deej. The Ewok multipack with Kneesaa is really suspesful for me, as far as wondering when and where it will arrive. The suspense is killing me! If you think about it, gosh, fans have really wanted a Princess Kneesaa action figure for years- some of us since the 80s cartoon line was in stores. But since Hasbra has confirmed that, yes, they have made Chukha-Trok and that yes, he is tooled and will be available sometime soon-ish, I'm betting he comes out in the rumored second Ewok multipack. It would be really awesome if Weechee and Widdle and Tokkat and maybe a female Ewok or Deej came with him!
Another guess is that we might be seeing more backgraoud droids or characters from the series rendered in realistic style. With the "Expanded Unisverse" chracters showing up in the mix of Vintage carded modern figures, the sky's the limit! Also we get Lumat this summer, and he's old skool Lumat. It's gonna be a great year for Ewoks and Droids!



Posts

: 221


Join date

: 2010-06-10


Age

: 42


Location

: Oklahoma/Kansas



Someone from Droids. Anyone from Droids! My top 3 would be Thall Joben, Jann Tosh and Mungo Baobab, but I would honestly be happy with any character from Droids.


Similar topics
---
Permissions in this forum:
You
cannot
reply to topics in this forum